PR424i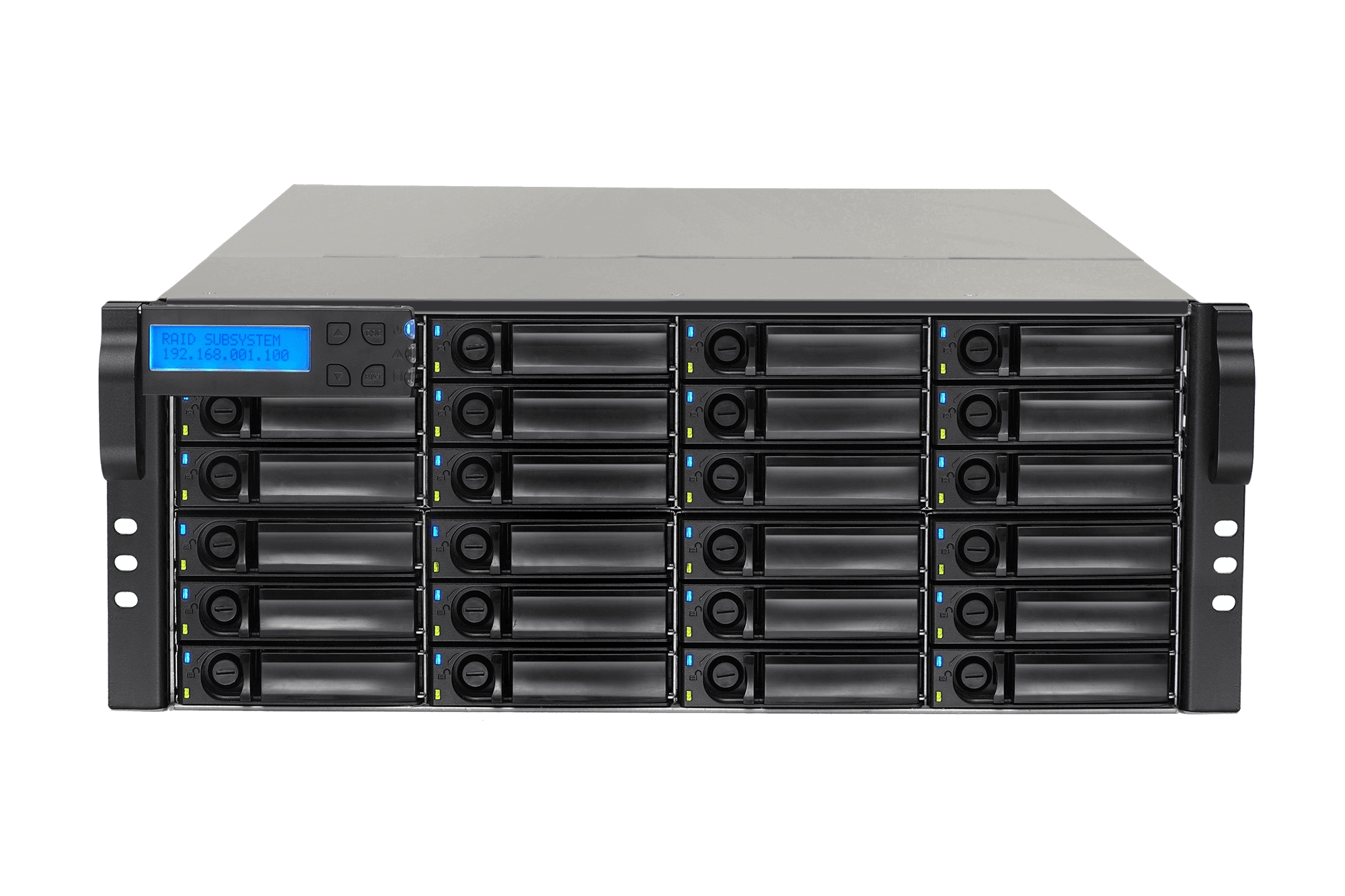 The Alnico Gb iSCSI RAID Series is designed with 4 x 1Gbps host ports for a cost-effective and shared storage solution with Link Aggregation (LACP, Trunking), Multi-Path IO (MPIO), and iSCSI Multiple Connection per Session (MC/S) support. The 4 port iSCSI connections deliver data throughput 400MB/s, advanced function, high availability, and scalable storage capacity with both direct iSCSI host and IP network connectivity. High transfer rates and more SATA disk channels provide a major benefit for those applications requiring cost-effective RAID solutions that take advantage of low cost, high capacity SATA disk drives, especially the rapidly growing demand from the VMware ESX server external storage, DVR markets and cold storage.
Technical Specification
Alnico Gb iSCSI RAID Series
Host Interface
1 x 6.0Gbps eSATA
1 x 5.0Gbps USB 3.0
4 x 1.0Gbps iSCSI(RJ45)
Jumbo frame support
Header/Data digest support
CHAP authentication
MPIO, MC/S, Trunking and LACP (802.3ad) support
RAID Architecture
1.2GHz Storage I/O Processor
2GB on-board DDR3-1200 SDRAM with ECC protection
Write-Through or Write-back cache mode support
NVRAM for RAID configuration and transaction log
Redundant flash image for controller availability
Battery backup modules ready (Optional)
Real time clock support
RAID Features
RAID Levels: 0, 1,1E, 3, 5, 6, 50, 60,Single Disk & JBOD
Multiple RAID 0 and RAID 10 (1E) support (RAID 00 and RAID 100)
eSATA host : 8 volumes ( with port multiplier)
iSCSI Host : 128 volumes
USB 3.0 Host : 8 volumes
Configurable stripe size up to 1024KB
Online capacity expansion and RAID level migration simultaneously
Support for native 4K and 512 byte sector SATA devices
Support Global Hot Spare and dedicated Hot Spare disk
SSD automatic monitor clone (AMC) support
Support HDD firmware update Multiple pairs SSD/HDD disk clone function
Multiple pairs SSD/HDD disk clone function
Multiple RAID selection
Online array roaming
Automatic drive insertion / removal detection and rebuilding
Online volume set growth
Online RAID level / stripe size migration
Instant availability and background initialization
Support intelligent power management to save energy and extend service life
Disk Interface
24 X 6Gbps SATA ports
Lockable Disk carrier can support both 2.5″ and 3.5″ drives without additional accessories
RAID Management
Firmware-embedded Web browser-based RAID manager, SMTP manager, SNMP agent and Telnet function via built-in LAN
Firmware-embedded manager through front LCD control panel
Firmware-embedded manager via RS-232 port
Field-upgradeable firmware in flash ROM by RS-232 and LAN port
Monitoring / Indicators
All system status can be monitored by firmware-embedded Web browser-based RAID manager
Firmware-embedded SNMP agent allows the remote to monitor events with no SNMP agent required
System status indication through LCD, LED and alarm buzzer
All system events can be sent to multiple user alerts via e-mails
Operating System
OS Independent and Transparent
Power Supply
Redundant by dual 400W / 80 Plus energy-efficient Power System with PFC
Electrical
AV Voltage 100-240 VAC/AC Frequency 50-60Hz
Temperature
Operating temperature: 5 to 35 degree C
Non operating temperature: -40 to 60 degree C.
Relative Humidity
20% to 80% non-condensing
Dimension
430.5mm(W) x 503mm(D) x 4U
Weight
Single Power : 20KGS; Redundant Power: 22KGS
* Specification subject to change without notice, all trademarks or registered trademarks are properties of their respective owners.